About Susan
Bio
Susan Kapuscinski Gaylord has been working as a visual artist since the late 1970s and as a teacher of making books since the late 1980s. Ten years of calligraphic work were followed by a concentration on book arts where she is best known for the Spirit Book Series as well as her workshops, books, and blogging on making books with children. Susan no longer teaches in person but continues to share her love and knowledge of making books through this website and her youtube channel.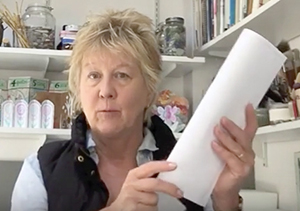 She is the author of Handmade Books For A Healthy Planet, three titles for Scholastic Professional Books, and numerous articles. Her artists books have been featured in solo and group exhibitions in museums and galleries and are well-represented in print with features in magazines (Urthona: Buddhism and the Arts, Somerset Studio, Fiberarts, and Letter Arts Review and books (500 Handmade Books, Cover to Cover and The Art of the Handmade Book by Shereen LaPlantz, and Handmade Books And Cards by Jean Kropper).




Story


Books have been an important part of my life since I was a small child. Through them, I traveled to far-off lands and imaginary kingdoms, met wonderful friends, and learned how to do all kinds of new things from cooking to calligraphy to making books. I made some books as a child but my passion for construction came when I had a child of my own.

I've always liked making things. I got it from my mother. She never concentrated on any one thing but in her life she sewed, knitted, painted, and made stained glass, as well as enhanced our lives with Christmas ornaments, house, table, and holiday decorations. And she did it all without the guidance of Martha Stewart.

It's been a long journey from the girl making crafts with her mother to the artist and teacher of today. I graduated from Boston University with a degree in English Literature. I spent a year being miserable doing clerical work in an office, followed by four years teaching swimming for the Boston School Department. Although I didn't know it then, I was receiving invaluable training for the teaching that was to come as I learned to keep order with thirty excited kids in the pool.

I left the wet world of the Hennigan School pool because I wanted to open a children's bookstore. While I waited for that to happen, I started doing calligraphy, which had been an occasional pastime since high school. I became obsessed. I eventually worked at it commercially doing invitations, diplomas, certificates, menus, wedding proposals, poems, logos--the works. I also exhibited calligraphic work as a fine artist and taught an Introduction to Calligraphy course at Rivier College.

After about ten years, calligraphy began to lose its magic. The commercial work was beginning to bore me, the clients were driving me crazy, and the fine art work was no longer satisfying. I wanted to do something more personal and less interpretive. After experiments with painting and surface design on fabric, I discovered the book form. I made books as artwork and also for and about my young son.

My career as a teacher of bookmaking began when my son was in pre-school. I showed his teacher a valentine accordion book with a red ribbon threaded through slits in the pages. When her first words were, "Hand-eye coordination," I knew there were possibilities for making books with children. Since that time, I've taught over thirty thousand students and teachers from grades pre-K through eight.

Over the years my teaching evolved. In the beginning, I approached the book very much as a tool of artistic and personal expression. I came to see that what teachers needed were ways to work within the curriculum. Most of the books I taught in schools were designed to make learning facts and concepts and doing research fun.

In 2006 I began making books with recycled or more accurately, repurposed, materials whenever possible. I was motivated by my concern for the environment and climate change and our recycling at home but I have found it to be wonderful for the children as well. There is a different energy in the room as they transform boxes and bags into books. In addition to consuming less paper, they learn to look creatively at the things they discard. I also began to do more workshops for families. With the ever increasing pressure on teachers and schools to cover curriculum material and prepare for testing, I feel it is important to encourage creative expression at home. When I did workshops with families, I often felt that parents needed the time to relax and create even more than the kids.

After twenty plus years traveling to a different school almost every time, I wore out. I had been teaching 350 to 400 kids a day, often in groups of 50. Some days I followed that with an after school workshop for teachers, and on rare occasions, followed that with an evening with families. Much as my love of making books was reawakened every time I stood in front of a group of kids with paper and glue stick, I knew it was time to end that phase of my life. Now, with the power of the internet to connect us, I am thankful that I can continue to share my love and knowledge of making simple books here and on my youtube channel. I hope you have many happy times making books!